Before one can discuss the role technology should play in education, you need to examine the benefits of using technology as part of the learning process.
Current educational environment are not adequately engaging students as many student report that schools are not keeping pace with the degree to which technology is being used by young people when they are not in school. As a result, many students report that they have to "power down" when they get to school. While it may not be a direct result of the disconnect between personal and educational uses of technology, the Canadian Education Association reports that less than 50% of high school students are intellectually engaged at school (CEA, 2011). Consequently, technology can play a very important role in
enhancing student engagement.
Disengaged students often report being bored at school and that what takes place at school is irrelevant to what happens in the real world
(Yazzie-Mint, 2009).
Using technology to enhance academic, affective, behavioural and cognitive engagement can have great benefits on the overall level of student engagement and academic achievement (You may want to checkout my previous blog posts about Understanding Student Engagement and Using Social Media to Support Student Engagement).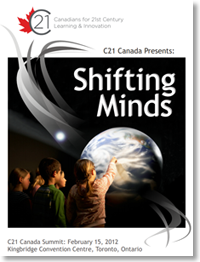 In addition to enhancing student engagement, technology plays a vital role in supporting the development of 21st century competencies. These competencies, as noted by the Canadians for 21st Century Learning and Innovation,

will play an increasingly important role in supporting the academic, social,

economic, environmental and financial aspirations of Canadians(C21, 2012). These competencies, as noted in their Shifting Minds document

are:
Creativity, Innovation and Entrepreneurship

Critical Thinking

Collaboration

Communication

Character

Culture and Ethical Citizenship

Computer and Digital Technologies
While technology is not necessary to support all of these competencies, access to technology can significantly alter the scope and scale in which these competencies can be addressed. The affordances of technology not only make the development of these 21st century competencies more efficient, but it also assists in making the process of developing these skills more open, collaborative and dynamic.
Using social media tools like discussion boards, blogs and YouTube to make the learning process more transparent and open allows students to communicate with their peers, engage in critical thinking when commenting on blog posts and share their creative talents with a broader audience. Collaborative resources like wikis and Google Docs make collaborating with others outside of the classroom significantly easier, while dynamic tools like Skype, Google+ and Twitter permit students to learn from knowledgeable experts from around the world. Engaging in open learning experiences, collaborating and interacting with students, teachers or experts in other locales are all learning opportunities that would be prohibitively difficult to accomplish without the use of current technologies.
It is important to note that classroom teachers are essential in creating these types of learning opportunities, so any speculation that technology will eliminate the need for classroom teachers is unfounded. While the need to have a teacher at the front of the room in a physical classroom may be affected by the influx of technology,
teachers will remain central to creating personalized, differentiated and engaging learning experiences for students.